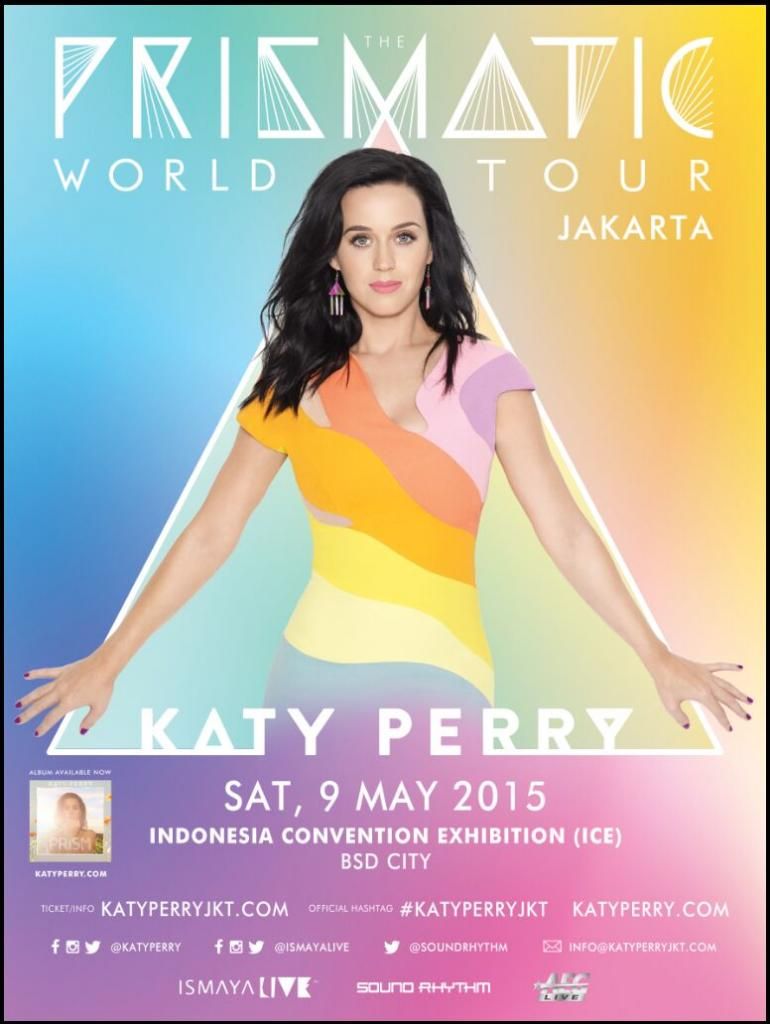 Daily Concerts, Jakarta - Indonesia Convention Exhibition – Jakarta, Indonesia
Saturday, May 9th 2015
TICKETS ON SALE: Saturday, February 14th 2015 at 11AM
(January 28th 2015 –Jakarta, Indonesia)—International superstar, Katy Perry, has announced today that she will bring THE PRISMATIC WORLD TOUR to Jakarta on May 9th 2015. This tour is presented by AEG Live, Ismaya Live and Sound Rhythm. She will be touring in support of PRISM, which debuted at number one on The Billboard 200. The platinum album has given Katy her biggest ever single with "Roar", while "Dark Horse" just became her lucky 13th Top Ten hit on The Billboard Hot 100.
Tickets for the show go on sale starting February 14th 2015 through www.katyperryjkt.com and priced at:
DIAMOND A (Numbered Seating, Food & Beverages Included) IDR 5,000,000
DIAMOND B (Numbered Seating, Food & Beverages Included) IDR 5,000,000
GOLD A (Numbered Seating) IDR 3,000,000
GOLD B (Numbered Seating) IDR 3,000,000
FESTIVAL 1 (Free Standing) IDR 2,300,000
FESTIVAL 2 (Free Standing) IDR 1,400,000
Tribune (Numbered Seating) IDR 900,000


Seating plan:
"I'm thrilled to bring the Prismatic World Tour to some of my favorite places in Asia, as well as some sensational places I've never been. I can't wait to take in the sights and the culture, and share my music and meet all of the new fans." said Katy.
Katy is currently touring the world on the Prismatic World Tour, which continues to be a hugely successful global spectacle, with 17 sold out arenas in the UK, 66 sold out arenas in North America and 25 sold out arenas in Australia/New Zealand during 2014. The tour continues in 2015 throughout Europe, Asia and South America where Katy will headline Rock In Rio in Brazil on September 25. The state-of-the art stage, specifically designed by Katy for THE PRISMATIC WORLD TOUR, allows her to get closer to her fans than ever before. The one-of-a-kind set design will provide concert-goers with a truly magical experience from every angle in the arena.
Katy Perry cemented her status as a best-selling superstar with the global success of her second studio album, "Teenage Dream," which debuted at No. 1 in eight countries and spent more than two years on Billboard's Top 200 album sales chart. She became the only female artist to have five No. 1 singles from one album on the Billboard Hot 100 chart ("California Gurls," "Teenage Dream," "Firework," "E.T." and "Last Friday Night"). The special edition, "Teenage Dream: The Complete Confection," added "Part of Me" and "Wide Awake" to Katy's list of nine Top 40 chart-toppers (dating back to her multi-platinum debut album, 2008's "One of the Boys," which generated four hit singles: "I Kissed A Girl," "Hot N Cold," "Thinking of You" and "Waking Up In Vegas").
PRISM has already equalled the sales success of its predecessor, and generated five hit singles, two of which, "Roar" and "Dark Horse," hit #1 for multiple weeks, which helped Katy set a new record at Top 40 for most total weeks (46) at No. 1 in the Billboard airplay chart's archives, and makes her the only artist in 2014 with top spins at three different radio station formats (Top 40, Hot AC and AC radio). She is the first artist to surpass the 75 million digital award threshold, counting digital downloads and on-demand streams – 20 million ahead of any other artist.
For more information please visit KatyPerry.com
THE PRISMATIC WORLD TOUR Announcement Video: http://youtu.be/RiNF6iOjRgs

https://twitter.com/katyperry
https://www.facebook.com/katyperry
http://instagram.com/katyperry
http://www.youtube.com/katyperry/

@KatyPerry
#THEPRISMATICWORLDTOUR

Info : info@katyperryjkt
Press Enquiries: media@katyperryjkt

About AEG Live
AEG Live, the live-entertainment division of Los Angeles-based AEG, is dedicated to all aspects of live contemporary music performance. AEG Live is comprised of touring, festival, broadcast, merchandise and special event divisions, fifteen regional offices and owns, operates or exclusively books thirty-five state-of-the-art venues. AEG Live's touring divisions of Concerts West, Atlanta Worldwide Touring, The Messina Group, AEG Live New York, Asia, Europe, and Marshall Arts consistently promotes and produces top 10 international tours. The company currently produces residency shows at The Colosseum at Caesars Palace in Las Vegas and is the exclusive promoter at The Joint at Hard Rock Hotel & Casino Las Vegas. AEG Live is also the largest producer of music festivals in North America from the critically acclaimed Coachella Valley Music & Arts Festival to Stagecoach Country Music Festival and New Orleans Jazz & Heritage Festival. www.aeglive.com.

About Ismaya Live
Ismaya Live is a young dynamic group that is passionate about lifestyle and entertainment. We have managed to put some of the biggest international acts to the Indonesian Live Music scene. Names like Katy Perry, David Guetta, Avicii, Alesso, Skrillex, Calvin Harris, Yeah Yeah Yeahs, Phoenix, A State of Trance 650, Russell Peters, The off-Broadway STOMP, and plenty more names has helped the brand in cementing the flag in the country.
We believe that creating an event is not just about the main-show, the main attraction. It is also always about the whole experience and what stories and impressions that it will bring. Our events will never be just ordinary events. It's the whole experience, right from the announcement, the moment you purchase your ticket, until you get home from watching your favorite acts. We want it to be your experience of a lifetime.