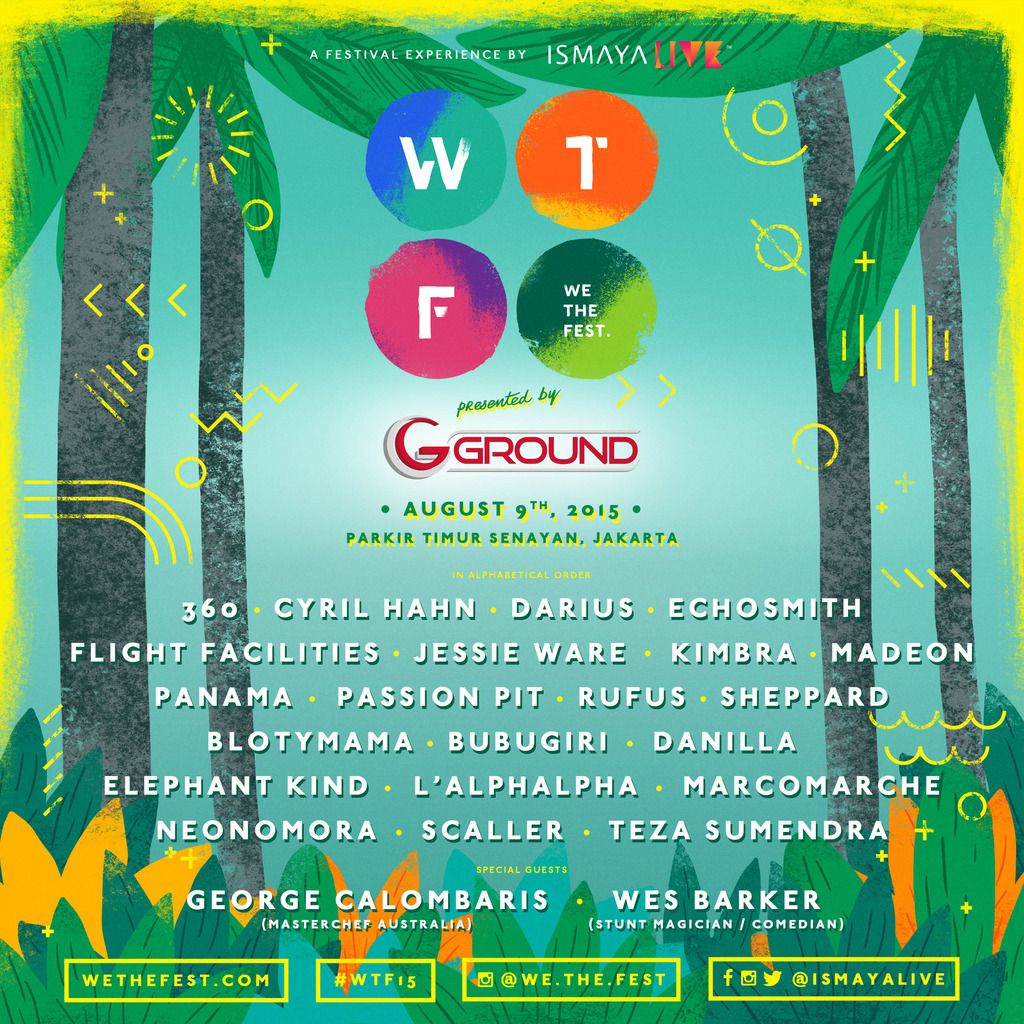 Daily Concerts, Jakarta - After the massive success of We The Fest 2014; named Best New Ground-Breaking Music Festival by Area Magazine, The Most Talked About Festival in 2014 by RollingStone Magazine and The Festival that was On Fire by Free! Magazine, it's time for ISMAYA LIVE to bring back WE THE FEST.

"Unlike our perceptions on other live concerts or festivals, WE THE FEST has its own set of throne. It had the perfect ambiance of an indie fest with a balance of mainstream music you listen on the radio during traffic hours. We fell in love instantly seeing how all the artists from different genres somehow are fused into one wholesome." – SvanaPaper, on #WTF14

This year, WE THE FEST is coming back with a bang, harder than our first ever. Still combining the love of Music, Fashion, Arts and Food –and also, having fun under the sun, #WTF15 will once again take place at PARKIR TIMUR SENAYAN, JAKARTA. This time, it will be on the second week of August, SUNDAY, AUGUST 9TH 2015 AT 12PM.

Aiming on making it as an annual summertime madness in the country, we have announced the full line-up; 360, CYRIL HAHN, DARIUS, ECHOSMITH, FLIGHT FACILITIES, JESSIE WARE, KIMBRA, MADEON, PANAMA, PASSION PIT, RUFUS and SHEPPARD. Special Guests: GEORGE CALOMBARIS from MasterChef Australia and Canada's Stunt Magician/Comedian WES BARKER. Not to forget, our local acts: BLOTYMAMA, BUBUGIRI, DANILLA, ELEPHANT KIND, L'ALPHALPHA, MARCOMARCHE, NEONOMORA, SCALLER and TEZA SUMENDRA.